DogBitesMan » Media, Society » Can the ethnic lobby save Australia's multicultural broadcaster?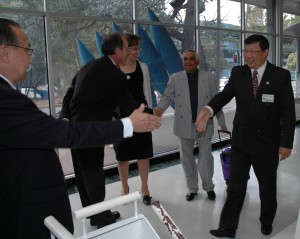 Everyone was very polite at a senate estimates hearing in Canberra whenever talk got near a possible merger between the ABC and SBS.
ABC managing director Mark Scott declared that his organisation was "committed to working with SBS to identify joint efficiency savings around our distribution and transmission". His SBS counterpart Shaun Brown boasted that this was his idea from the 2020 summit and he wanted to "fully explore" ways to "benefit both broadcasters".
Their Minister, Senator Conroy, stressed that he liked Mr Brown. He didn't say whether he liked Mr Scott, though this was taken for granted.
Nobody actually mentioned the M word: merger.
This was strange because hanging over everyone's heads as talk circled around budget cuts and cost savings were Conroy's review, and the ABC-commissioned report from the Boston Consulting Group, which recommended "forming a single organisation with two programming groups focusing on the ABC and SBS brands".
There wasn't much discussion either of the other M word — multiculturalism — at the hearing, although Brown used it a few times while defending his decidedly monocultural motoring program Top Gear.
Nobody really wanted to discuss that M word either — and certainly not both words in the same sentence.
None of them wanted to awaken the ethnic dragon.
In his private moments, Scott is said to worry that public discussion of a merger might disturb the ethnic lobby's slumbers. Brown invokes the memory of its fiery breath to stave off merger talks. But he of all people must know the truth: the dragon's lair is, to all intents and purposes, empty; it has been for quite some time.
That doesn't mean multicultural Australia itself is a myth. In practical terms, diversity is more firmly part of everyday life than it has ever been. It is apparent every day in streets and schools, shops and workplaces across Australia — many thousands of people are still beavering away in what conservative critics writing for the Institute of Public Affairs like to call "the multiculturalism industry".
There are still exploited and underpaid migrants working long, hard hours as night cleaners and garment workers who need the protections of multiculturalism. A survey last year led by the University of Western Sydney found that 10 per cent of Australians held outwardly racist views, and the 2005 Cronulla riots and more recent ugly protests against an Islamic school in south-west Sydney show Australia still needs multiculturalism to counter racism.
However, multiculturalism as a government policy has declined. And with it has withered the once-feared ethnic lobby.
It all started so brilliantly, with ethnic variety coalescing into capital-M Multiculturalism under Gough Whitlam and the late Al Grassby. And it flared even brighter under succeeding Labor — and occasional Liberal — federal and state governments.
At its peak, ethnic leaders were organised, committed, active, vociferous and feared. No government would implement significant multicultural initiatives without consulting organisations such as the Federation of Ethnic Communities Councils of Australia (FECCA) or the various state ethnic or multicultural councils.
The late Bill Jegorow — the Russian-born founding chairman of both the Ethnic Communities Council of NSW and of FECCA — often boasted how cabinet ministers would call him at home to discuss policy. Prime minister Bob Hawke thought FECCA important enough to open its annual congress in 1988. These were the glory years of multiculturalism and for much of the 1980s and 90s the ethnic lobby thrived across Australia.
For a time the ethnic leaders managed to ride out the morphing of multiculturalism from a sentimental ideal to a more hard-edged socio-economic tool, a change encapsulated in 1989 in Hawke's National Agenda for a Multicultural Australia and furthered by Paul Keating's more rationalist support for multiculturalism's economic efficiency, for Aboriginal reconciliation and greater engagement with Asia. SBS, under the paternal Sir Nick Shehadie, got its own Charter and then regular increases to its (advertising-free) budget. Its radio division — broadcasting in 68 languages — bloomed under a wily Vietnamese former refugee, Quang Luu, at one point racking up more outside broadcasts across Australia than the much larger ABC.
But the cracks had already started to appear, partly created from the inside by the mutation of multiculturalism and partly by its enemies.
By the late-1990s, even governments of the left were demanding more accountability from ethnic organisations for public funds, replacing general grants with funding tied to specific projects. Nationally, the enemies of multiculturalism had been circling and they seized their opportunity under the Howard government. This swing towards old-style assimilation — re-badged as Australian nationalism — manifested itself across many sectors of Australian public life.
At government level it emerged in strategies such as funding malleable ethnic organisations and refusing grants to those that made waves. As Howard ministers were heard to ask: "Why do we fund people to attack us?"
It extended to measures such as replacing almost all the "ethnic" members of the SBS Board with directors sympathetic to this new movement, starting with new Chairman Carla Zampatti, a Howard supporter married to a former Liberal MP. In 1999, before Zampatti took over, six of the nine board directors were from non-English speaking backgrounds. By 2004 there was only one: Zampatti herself.
The most troublesome of the SBS directors, Indian-born businessman Neville Roach, created a minor stir in 2002 when he resigned as head of the Government's Council for a Multicultural Australia over then immigration minister Philip Ruddock's hard line on asylum seekers. Roach was quietly replaced by Howard-friendly Benjamin Chow, an unassuming engineer-turned-property developer unlikely to upset the Coalition. The CMA itself was wound up in 2006.
Even academia could not rescue the ethnic lobby. Whereas in the 1960s and 70s brilliant minds like journalist Walter Lippmann and sociologist Jerzy Zubrzycki had provided the intellectual underpinning for multiculturalism, by the new millennium their successors were out of favour and largely ignored. Academics such as Geoffrey Blainey and Keith Windschuttle became media darlings in challenging the warm fuzziness of multiculturalism in an era of economic rationalism and national reassessment. The nadir of this process for many was the 2003 appointment of former Howard speechwriter and conservative columnist Christopher Pearson to the Board of SBS, where he was soon to feel at home.
Interestingly, the Rudd Government has made some tentative steps towards détente with multicultural Australia. In December 2008, the Prime Minister revived a 16-member Australian Multicultural Advisory Council to replace the defunct CMA, chaired by AFL chief executive Andrew Demetriou. In April 2009 Rudd filled two vacancies on the SBS Board with directors of non-English speaking backgrounds — Victorian community engagement officer Elleni Bereded-Samuel and financier Joseph Skrzynski.
Significantly, hardly any of the recent Rudd appointees could be regarded as active leaders of an ethnic lobby willing or powerful enough to challenge governments. In this the Prime Minister is returning to the Keating-era philosophy of valuing cultural diversity and encouraging ethnic talent while discouraging ethnic political power-brokers. (This approach is not restricted to multiculturalism: Rudd hates being beholden to any lobby group, whether farmers, miners, doctors or greenies — even trade unions or ALP factions.)
The Rudd rapprochement with multiculturalism has, of course, come too little, too late to resurrect the old-style, once politically powerful ethnic lobby. By the time the latest talk of merging SBS with the ABC emerged last year, proposals such as those in the Boston Consulting Group report were met with a reverberating silence from what is left of the ethnic lobby. Apart from scattered and largely unused media statements from FECCA and a few other organisations, there was no call to arms, no clarion to man the barricades. Certainly there is no longer any evidence the ethnic leadership could fill Sydney Town Hall with supporters as they did in 1988. Brown could try using SBS Radio to draw a crowd, but these days even SBS loyalists are wondering whether multilingual radio might not be better funded and protected within a merged super national broadcaster, working alongside Radio Australia.
Of course, the myth of an effective ethnic lobby is not the only reason Conroy and Scott publicly repudiate a merged ABC and SBS. The Friends of the ABC — though as muted as the ethnic lobby — are deeply suspicious of the ABC getting into bed with a commercial broadcaster, and Brown's contention that SBS is a good example of a workable mixed-funding broadcaster must only add to their alarm.
Whether one believes a merged national broadcaster would strip the last vestiges of multiculturalism from SBS or end the underlying Anglo-centrism of the ABC, the bottom line, of course, is that a merger is inevitable. The two national broadcasters are looking and sounding increasingly similar and are now publicly committed to sharing facilities. As this progresses, there will be only shorter and shorter steps to further cooperation, joint-ventures, integration and ultimately a merged entity.
Bill Jegorow must be turning in his grave.
This is the first in a two-part series first published on New Matilda in June 2009. The second part takes a closer look at the evolution of multicultural Australia.
Filed under: Media, Society · Tags: 2020 Summit, ABC, ABC-SBS merger, Aboriginal reconciliation, Al Grassby, Andrew Demetriou, assimilation, asylum sekkers, Australian Multicultural Advisory Council, Australian nationalism, Benjamin Chow, Bill Jegerow, Bob Hawke, Boston Consulting Group, Carla Zampatti, Christopher Pearson, CMA, conservative critic, Council for a Multicultural Australia, Cronulla riot, economic rationalism, Elleni Bereded-Samuel, Ethnic Communities' Council of NSW, ethnic lobby, FECCA, Federation fo Ethnic Communities Councils of Australia, Friends of teh ABC, Geoffrey Blainey, Gough Whitlam, Institute of Public Affairs, Jerzy Zubrzycki, Joseph Skrzynski, Keith Windschuttle, Kevin Rudd, Mark Scott, multiculturalism, National Agenda for a Multicultural Australia, Neville Roach, Nick Shehadie, Paul Keating, Quang Luu, racism, Radio Australia, SBS, Senate Estimates Committee, Shaun Brown, Stephen Conroy, Top Gear, Walter Lippmann