DogBitesMan » Media » Too little too late for SBS?
After years of downplaying SBS's multicultural credentials, managing director Shaun Brown now wants to be besties with the ethnic lobby. It might be too little, too late.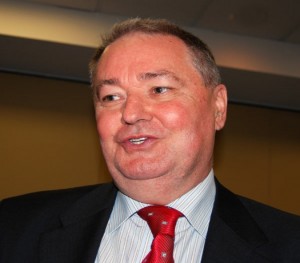 Speaking at a recent symposium at Murdoch University entitled "Racism Revisited", SBS managing director Shaun Brown made a case for allocating more funds for multicultural broadcasting at Australia's second national network.
Many in the audience would have been a little taken aback. Was this the same Shaun Brown who, in his four years as MD, has downplayed the multicultural focus of SBS? The one who led the push to reinterpret the SBS Charter to elevate the concept of "all Australians" — and to relegate to a secondary role its multicultural responsibilities?
Brown's plea for more taxpayer funds for multicultural programs has been likened by some observers to the man who murdered both his parents then pleaded for mercy because he was an orphan. They see his latest flourish of the corporation's much-used begging bowl as disingenuous considering how deeply he has raided SBS's multicultural coffers — both financially and philosophically — to bring the network to its current sad state of affairs.
Brown told the Perth symposium that there was a continued need for SBS to "give a voice to different sectors of the community in our national debates and enable different voices and different languages and cultures, to be reflected back to all Australians".
Did this need ever go away? Critics of SBS would say no — and add that the broadcaster has not met it in recent years. So it was a shock to hear terms like "multicultural", "cultural diversity" and "linguistic skills" issue forth from the podium several times over, from the same man who not so long ago, when soliciting programming ideas from his entire staff, sent out a long memo which didn't use the word multiculturalism once.
Several days after this appearance, Brown recycled large chunks of the Murdoch University speech at the Australian Broadcasting Summit in Sydney, fleshing it out with responses by Indian Australians to an SBS survey about the recent attacks. Brown may be coming late to this argument that multiculturalism is a bastion against racism, but as usual he sounded plausible. He even added a mea culpa for past wrongs, admitting SBS was "falling short on serving our 'multilingual' objectives — across all our platforms".
Perhaps he felt safe telling all to an audience dominated by industry suits who wouldn't hold the past against him that: "We significantly under-serve major or growing language communities. At the same time we do little or nothing for new, high need language groups. And, we continue to largely serve our language communities on analogue radio when our audiences are increasingly turning to online services.
"This is clearly unacceptable for a modern media organisation with a remit like SBS's."
As if to confirm his apparent change of heart, Brown sent an email to all staff, ostensibly to update them on a mid-term review of the SBS Corporate Plan, but which also stressed the importance of multiculturalism.
"We must provide more services for language and cultural communities as well as more content that will appeal to a broad cross section of Australian society," he wrote.
"SBS must try to deepen the engagement of Australians with content that specifically promotes the maintenance of a successful multicultural society."
Brown's critics would have been heartened to hear him champion multicultural programming in such exultant terms — were it not for the fact that they no longer trust him.
His history of stripping funding from multicultural programming — especially from multilingual SBS Radio — to pursue a more mainstream television agenda exposes the hollowness of his new strategy.
Only now, after four years at the helm, with advertising scarce and audience share at a historic low, does Brown return to SBS's ideological roots to try to convince Australians — and through us the Government — that SBS deserves more money.
It would not be hard to see this as a cynical move after all other strategies have failed. And perhaps both public speeches were partly prompted by continued attacks on the SBS. The most recent was a call by Tim Dick, Opinion Editor at the Sydney Morning Herald, for SBS to be closed and its funding spent on independent journalism. It may have been provocative and ill-informed, but it would still have caused more shudders to run through SBS's Artarmon headquarters.
So what evidence is there that Brown has really changed his thinking beyond mere rhetoric?
Certainly SBS's announcement of a new arts channel it will sell to Foxtel and Austar wouldn't justify much confidence. Even at this early stage of its existence, Stvdio (pronounced "studio") appears to be mainly a collection of overseas arts programs bought cheaply and bundled to make them seem thematic. And Stvdio's admittedly sparse website manages to spruik its attractions without once mentioning words like "multicultural".
Perhaps news of Brown's conversion hasn't filtered down to the Stvdio planners or maybe they don't think either the new channel or Brown's conversion to multiculturalism will last beyond the current round of funding applications to the Federal Government.
There is, of course, an outside chance that the longed-for reformation of SBS is actually at hand, that the new Chairman of the Board, Polish-born financier Joseph Skrzynski, is made of different stuff to his predecessor, fashion designer Carla Zampatti.
Zampatti never managed to get much in the way of additional funding from the previous government despite her close friendship with John Howard — and in fact some said because of it.
Perhaps Skrzynski might fare better with the Rudd Government, especially with Communications Minister Stephen Conroy who is currently in desperate need of friends.
And perhaps the SBS Board's apparent new interest in multiculturalism is real. Perhaps Skrzynski, despite his rather meagre multicultural credentials, actually believes it is still important to Australia and to SBS.
If that is so, he'll have a tough row to hoe with the hardline Howard-appointees still on the Board, most of whom were complicit in the corporation's poor performance.
He'll also need to convince SBS's critics — who are mainly its one-time friends — that the corporation is genuine in this new direction. And he can't do that without a practical demonstration and some radical changes at the top.
Skrzynski comes from the commercial world where failure is punished quickly, surgically and with extreme prejudice. It is hard to imagine the boards of BHP or Westpac allowing management failures of the magnitude witnessed at SBS — falling market share, declining real-terms revenue, lost public confidence and low staff morale — to continue without censure.
Brown is in a powerful position; he is paid more than the Prime Minister and all but one of the corporation's nine most senior executives owe their appointments directly to him.
The question is whether Skrzynski has the nerve to wield the knife.
First published in New Matilda in April 2010
Filed under: Media · Tags: Austar, Australian Broadcasting Summit, Carla Zampatti, cultural diversity, Foxtel, John Howard, Joseph Skrzynski, multiculturalism, Murdoch University, racism, SBS, SBS Charter, SBS Corporate Plan, SBS Radio, Shaun Brown, Stephen Conroy, Stvdio, Sydney Morning Herald, Tim Dick